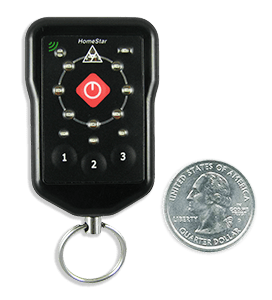 One of the worst feelings we've all experienced in our lives is the feeling of being lost.  It is a feeling of anxiety, embarrassment, and helplessness.  You're even more frustrated because you actually tried to make sure that you paid attention to the path you took and specifically remembered landmarks, but none of that helped.  Now, all that you worry about is how long it will take you to get back to where you want.
We created the HomeStar Pocket™ GPS to avoid this horrible feeling, not for just ourselves but for the people that we care about: our husband, our wife, our parents, our grandparents, our children, and our friends.  With the HomeStar Pocket™ GPS, you don't need to be afraid of getting lost.  Instead, you have the freedom to get lost, enjoy your adventure, and savor the rich experiences that this world has to offer.
What is the HomeStar Pocket™ GPS?  It is the smallest and simplest personal GPS available on the market today.  Small enough to fit on your keychain and carry around all the time, this handy little device is your insurance policy whenever you need to make sure you can get back to your original location — your parked car in a large parking lot, your campsite, a family meeting location at an amusement park, or your hotel in a strange new city (click here for more uses).
After 8 years of offering this exciting product, we have decided to retire the HomeStar Pocket™ GPS.  We are proud that the last of our inventory was donated to the Boy Scouts of America.  Here we are packaging our gift: